Predictable and Reversible Underbite Correction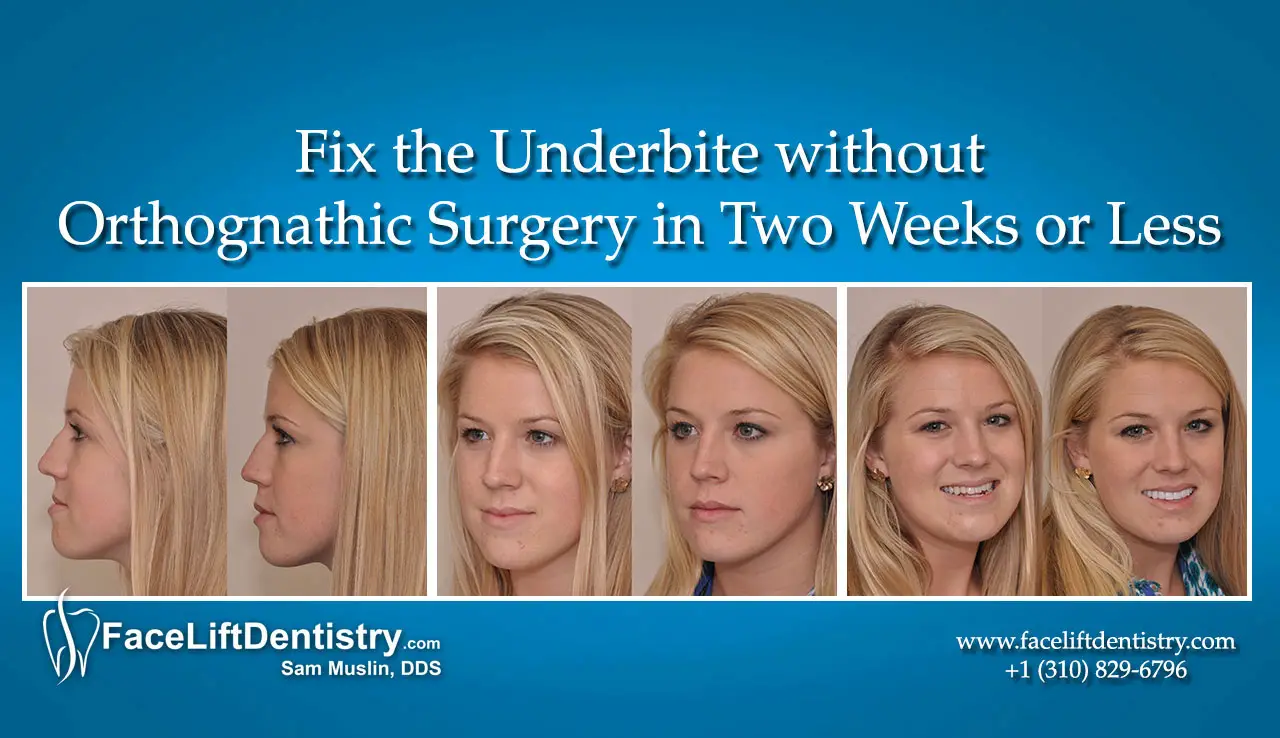 VENLAY® Underbite Correction  is not only possible but is far more predictable than a jaw surgery and braces. Although severe under bites are better treated with jaw surgery, most under bites can be successfully treated with this non-surgical method. Most dentists are not even aware that this method exists. This is the reason that your dentist will continue to tell you that "the only way to correct your underbite is with jaw surgery". This may apply in their dental office, but not in ours!
Underbite Correction in 2 Weeks
In Dr. Sam Muslin's Santa Monica practice, treating patients with under bites in just 2 weeks with excellent results are a reality. The basic premise behind this treatment is as follows:
No Jaw Surgery
No Braces
No grinding down healthy teeth
No hospitalization
Most patients are completed in only two weeks or less
Patients fly in from all over the world because it is so fast and predictable treatment.
There are "before and after photos" of the results on his website that document his work.
He uses his exclusive VENLAY® restorations combined with Face Lift Dentistry®
He designs and works on your porcelain personally to insure consistent results
You will see the actual results in your mouth before the VENLAY® Restorations are bonded.
Each patient is in control of their results and can make changes.
It is reversible but nobody has asked for this to be done.
It is painless because none of your healthy teeth are ground down for porcelain crowns or for porcelain veneers.
You will get permanently whiter teeth (not possible with jaw surgery and braces)
If you already had jaw surgery, and are still not happy with the outcome, you may still want this treatment for  perfect results. Getting the perfect bite with jaw surgery and braces is a difficult task.
VENLAY® Restorations
VENLAY® Underbite Correction is based on the Face Lift Dentistry® method which is designed to have an impact on the shape of the patient's face. It optimizes the health of the patient by correcting the underbite. This treatment is designed to harmonize the patient's bone structure and the soft tissue of their faces. Because it is non-invasive dentistry at it's best, it is safe, effective and predictable. Some cosmetic dentists and anti-aging dentists are claiming that they can correct an underbite with Invisalign® or porcelain veneers and porcelain crowns, but this could damage a great deal of healthy tooth structure. Dr. Sam Muslin does not recommend this version of treatment.
Correcting the Jaw Position without Surgery
Additionally, how they arrive at their jaw position is entirely different than Dr. Muslin's "patent pending" Face Lift Dentistry® method. Before choosing a dentist to correct a bite, for cosmetic dentistry or for anti-aging dentistry, evaluate their "before and after photos" of their own results of their own patients. Make sure you are not being shown "photos of other dentist's work". Patients fly in from all over the world to be treated by Dr. Sam Muslin because of the quality of his work, the speed of the treatment, the no-grinding nature of his care and especially for his unique expertise. Call to discuss the possibility of getting treated by this dentist. (310) 829-6796